Maintenance Cycle
As time passes, you will update some of your topics, write new ones and the time to update translations will come. When it happens, you will see the benefits of translation reuse with these techniques:
Reuse of In-Context Exact (ICE) matches;
Recover translations of similar text from Translation Memory (TM);
Generate updated translations using EBMT (Example Based Machine Translation).
Start by converting the updated DITA project to XLIFF. Next, let your translation tool compare the new XLIFF with the one you translated before and recover In-Context Exact (ICE) matches. This will let you recover translations of text that has not changed since last translation cycle.
After recovering all ICE matches, mark all translated segments as untranslatable. Translations will remain visible in the XLIFF as context information for the translator but they don't need to be changed.
Next step requires the TMX file obtained in the previous translation cycle. If you have not yet updated your Translation Memory with the translations of the previous cycle, import the TMX into the Translation Memory of your translation environment and use the TM engine to retrieve matches for the segments that remain untranslated.
A TM engine can evaluate the similarity between current text requiring translation and entries that exists in its database. Entries identical to the text being translated are considered 100% matches; entries that have some differences with the searched text are called fuzzy matches.
If your translation memory only contains entries from a very similar project, you may want to accept all 100% matches as final. There is no guarantee that those matches are the right translations, so you should let professional translators approve them. Nevertheless, you may ask your LSP to set a special price for segments with good matches from your own TM.
Use Example-Based Machine Translation (EBMT) and recover extra matches. Sometimes the difference between old text and the new one is just an updated number and that is something a good CAT (Computer Aided Translation) program can correct automatically using EBMT techniques. An EBMT engine can also automatically correct the translation of known terms with the aid of a terminology database.
After following all previous steps you should have an XLIFF file ready for sending to an LSP for completing the translation cycle. Send it with an updated PDF rendering and remember to update your TM engine when you receive the translated version back.
Finally, if your translation budget allows it, generate a PDF rendering of the translated project and send it with a copy of the translated XLIFF to your LSP for proofreading. If the reviewer finds an error, it can be corrected in the XLIFF file and sent back to you for updating your topics.
It is usually very useful to prepare glossaries and provide them to your LSP. This helps in keeping consistency for special terms. Ask your LSP to provide translated versions of your glossaries; you can use them with your EMBT engine.
You can translate DITA maps or individual topics using XLIFF as intermediate format. When translating DITA maps it is very important to use a tool that can handle the different content linking mechanisms offered by DITA. It is not necessary to resolve referenced content when translating individual topics, but you can still make good use of the translation reuse strategies described above.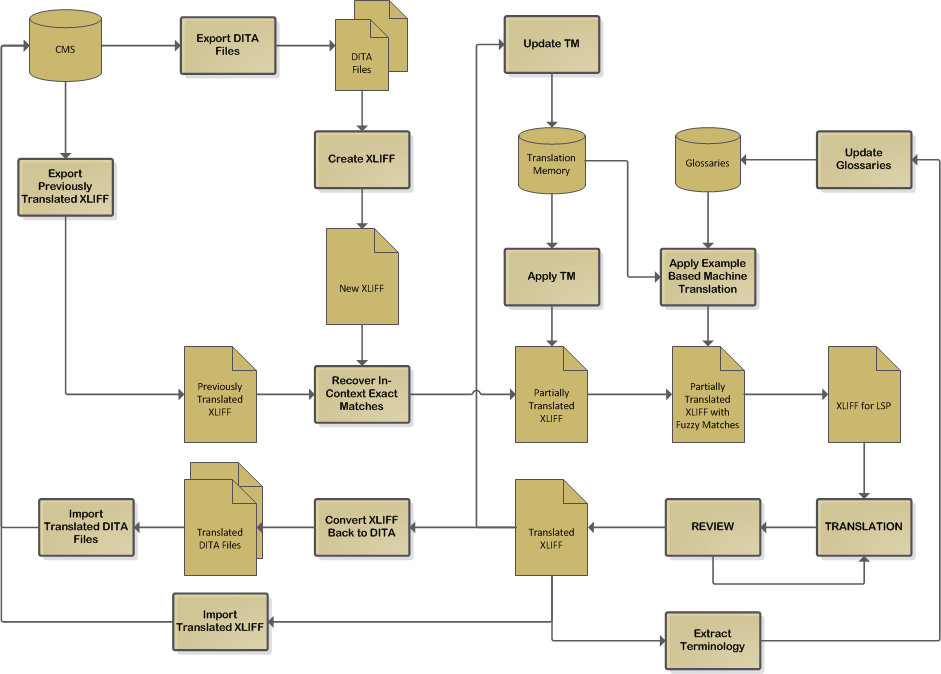 Figure 2. Maintenance Workflow